The Argentine companies listed on the stock market go through endless cycles of illusion and disenchantment without adding value for their shareholders in the long term. 
This is evidenced by looking at MERVAL, the index of Argentina's leading companies, measured in inflation adjusted US Dollars.
The result is shown in the graphic below, which uses data from October 1996 to September 2020. During this time, the MERVAL index shifted from USD 990 to USD 282. If you acquired a handful of shares representative of the Argentine market at that moment and you kept them until now (selling those that were deleted from the index and buying those that were added) then you lost 71,5% in 24 years. In other words, you became 5,1% poorer every year.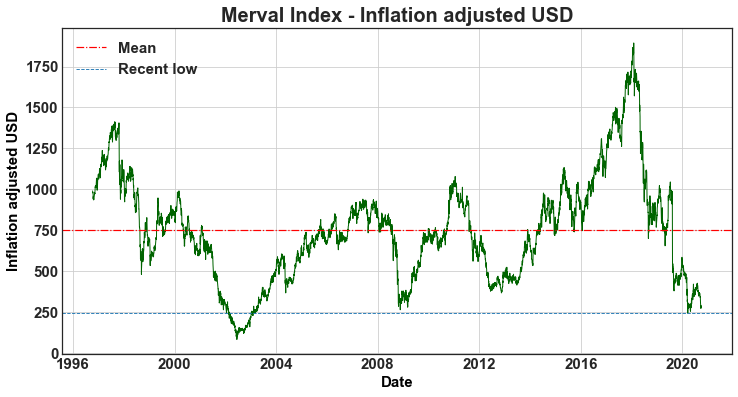 These cycles of illusion and disenchantment are also visible when analysing the MERVAL index in nominal dollars, without adjusting for inflation.
The first idea that emerges from this is that, if we look back in history, the strategy of buying and holding -which works really well for the S&P 500- is disastrous for the local market. 
However, the Argentine market presented great opportunities for those who bought when prices hinted at an apocalypse (in situations that resembled quite a bit) and sold when prices pointed to an almost naive optimism that the country would overcome for good the macroeconomic imbalance that make it so unstable.
In hindsight, purchasing shares or any other Argentine asset during the 2001/2002 crisis was an opportunity we all wish we had again. But at that time, with business close to bankruptcy, defaulted sovereign debt, currency mismatch in the financial system and a poverty index at about 50%, only a few would have been able to do it and have the guts to hold a position amidst so much uncertainty. Those who lived through that crisis and are old enough to remember it will know better than me how difficult it was.
If someone was bold enough to buy shares in the trading session following the December 2001 default, they entered the market with the MERVAL index in USD 208 and had to hold their position, losing up to 72% at times when everybody sold like there was no tomorrow. 
From an all-time low of USD 57, the MERVAL index would climb to USD 740 in a bullish cycle that spanned 5 years. Supposing they entered with USD 100.000, they saw their holdings plummet to USD 28.000 and ended up with USD 356.000. A real roller coaster.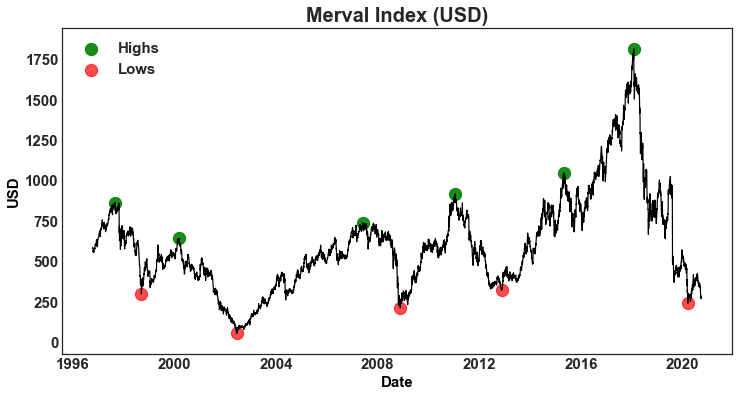 By connecting the extreme values, it's easy to see the 10 major changes tracked in the MERVAL index in the last 24 years. The average drop is 75.8% and lasts 640 days, the average uptrend is 386.5% in 1.009 days.
The most important drop was in the 2001 crisis, when the index plummeted 91% throughout 833 days. The current drop is the second most important with a 86.6% slump that lasted 777 days, until last March 18, when the MERVAL index reached a low of USD 243.5 and has since not surpassed.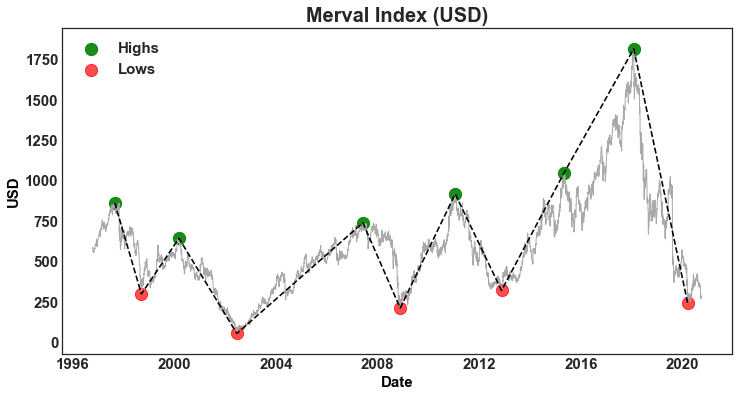 I wonder if the brave person who bought after the 2001 default is expecting more chaos this year or already feels confident to buy. The MERVAL index could drop an additional 66% and reach the 2002 low adjusted for inflation, or could have already hit a low after dropping 86.6% from the 2018 high.
It's impossible to know for sure whether we have already hit a low or there is still some way to go. The economy will probably keep deteriorating in the coming months, which does not rule out the possibility of there being some hope for the market. After all, share prices are based largely on future expectations, often exaggerated on both ends in the Argentine case.
Regardless of when we reach the low, a long-term view suggests that we are going through times of utter pessimism, but that's when the best buying opportunities arise. Or is it that, as Kenneth Rogoff says, this time is different?
Thanks for reading!