Narratives matter. Meta (previously known as Facebook) surpassed USD 1 trillion in market capitalization during the second half of 2021, however, in the last months, the focus of the market shifted from the potential of its immense and engaged family of apps to regulatory and competition issues. As time went by, the stock halved and the company is now valued at USD 520 Bn.
The recent 50,9% drawdown is the second largest ever for the company, only surpassed by a 53,6% drop in the first 4 months after its IPO (2012).
Meta is now trading at 14x earnings and 4,7x sales. Both metrics are the lowest on record.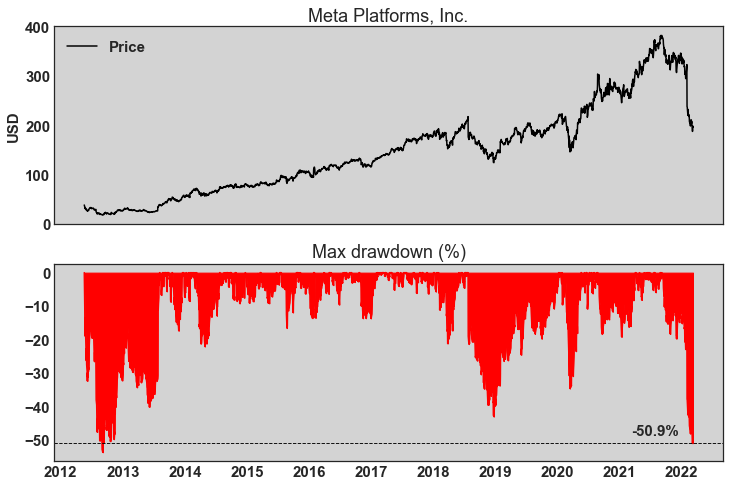 As usual, the stock movement didn't have much to do with the past of the company. in 2021 Meta achieved 37,2% revenue growth and USD 39,1 Bn in free cash flow (+65,5% YoY). That's on top of USD 24,65 Bn spent on research & development (+33,6% YoY).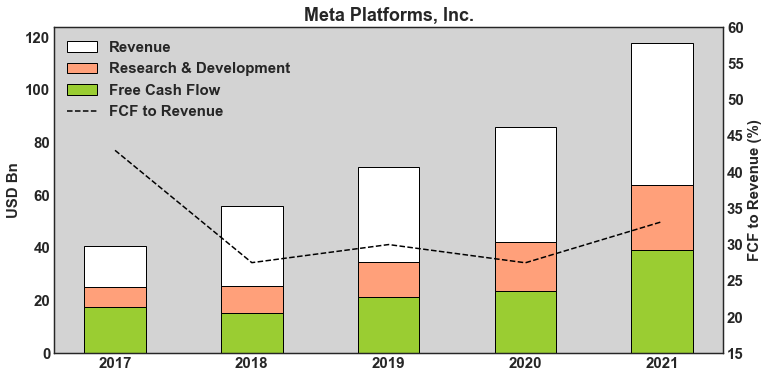 The key drivers of the ongoing correction in Meta's valuation, exacerbated after the last quarterly report, are related to challenges for the coming future:
User growth slowdown: Facebook registered a drop in Daily Active Users (DAUs) during 4Q21. While it was a minuscule drop (500k), it was the first-ever on record.
Political landscape: Politicians and regulators are increasingly concerned about the impact of social media on mental health and fake news spread. There is also an ongoing Federal Trade Commission antitrust lawsuit against the company.
Targeting headwinds: changes in Apple's iOS made data collection more challenging. Tightening privacy protections have a direct impact on the accuracy of the ads that Meta shows to users, potentially hurting the Average Revenue Per User (ARPU).
Social media dynamics: TikTok is growing fast (+130M DAUs in USA) and monetization of new trends (videos) isn't being as easy or profitable as previous ones.
Metaverse: The bet to develop the Metaverse demands several billions of dollars with no guarantee of success. Committed expenditures will certainly have an impact on profitability.
The correction in Meta is deepened by the overall market conditions. Rising interest rates and the conflict between Russia and Ukraine pushed the Nasdaq 100 index 20% off its peak.
But besides the important challenges ahead, there are also positive facts worth mentioning:
Meta's family of apps has 3,59 Bn Monthly Active People (MAP). That's 55% of the world population ex-China (where Meta is banned). Adjusting by age, given that Facebook and Instagram aren't allowed for under 13 years old, the share is even bigger. A slowdown in user growth seems natural considering these metrics.
Instagram, Facebook and WhatsApp are all among the top 5 globally most downloaded apps.
Meta accumulates more than USD 90 Bn spent in Research and Development, 27% of which took place in 2021. It has been researching AI for 10 years.
The company has a strong financial position. The year 2021 ended with USD 48 Bn in cash and short-term investments. Total debt is USD 14,4 Bn. At current levels, the company offers a 7,5% FCF yield.
There are high potential initiatives that can partially offset the headwinds mentioned before. Shops, Meta's E-commerce feature launched in 2020, recently surpassed 250M sellers and 1,7 Bn active users. There is also Whatsapp Business and Facebook Pay, among others.
Getting creative: Meta's valuation 3 years from now
The "family of apps" segment revenue grows slower than the digital ads market. Margins take a hit from business headwinds. Reality Labs (Metaverse) keeps burning incremental amounts of cash without yet delivering meaningful results.
Narratives focus on social media's impact on mental health and Meta becomes like "digital cigarettes". Funny enough, even valuating Meta at EV/EBIT of Phillip Morris (14x) means a rise from the current multiple of 10,4x.
This scenario could lead to USD 48,7 Bn in EBIT for 2024, slightly up from 2021 levels. At 12x EV/EBIT that means a 6,3% CAGR for the stock. It's worth noting that most of the return comes from multiple expansion. So again, narratives matter.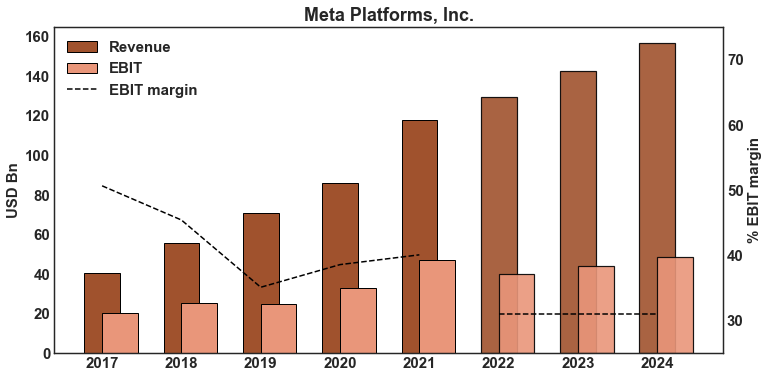 Meta's massive reach and engagement continue to drive network effects. TikTok competition and Apple's iOS changes hit margins. The Metaverse transition becomes less uncertain but still doesn't provide a meaningful impact on revenues.
The company reaches USD 57,7 Bn in EBIT for 2024. A less hostile sentiment allows Meta to trade at 16x EV/EBIT. In this scenario, the stock could achieve a 25% CAGR.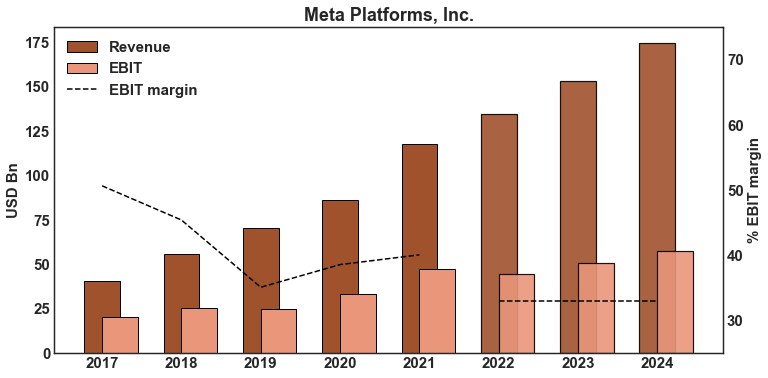 Meta Platforms has several challenges that need to be addressed. There are some ironies within these issues, for example, the same company is suffering from increasing competition and antitrust lawsuits at the same time.
The natural slowdown in user growth and a probable drop in time spent by users on their platforms will have an impact on revenue. Despite those headwinds, the broadening digital ads market will keep driving revenues up.
Margins, on the other hand, will certainly be lower. Targeting challenges, difficult-to-monetize new trends and Metaverse expenditures are a fact.
There's a big probability of earnings being stagnated during the next few years. Yet, the company will remain a key player in the ever-growing digital ads market while also offering exposure to new initiatives.
Regardless of the challenges ahead, the huge drop in value offers an interesting margin of safety. Multiple expansion could lead to attractive returns, so it's crucial to follow changes in the narratives. Drivers could be Metaverse gaining widespread adoption, iOS impact easing or engagement trends improving. The huge amounts spent on R&D and leading AI capabilities should help.
Thanks for reading!